There are many things to consider when investing in property market but it can be especially daunting when dealing with the capital itself. The London property market is uniquely complex and requires thorough knowledge to be able to get the most out of your investment wither you are a new landlord or a seasoned investor in the capital.
Crystal Housing Group is proud in offering years of experience and knowhow with our highly skilled workforce having managed a wealth of properties in our working history. We have dealt with a vast number of different clients that has allowed us to adapt to any requirements as we seek to establish a specifically catered experience for our clientele.
Please see the areas of London that we cover in map and list form.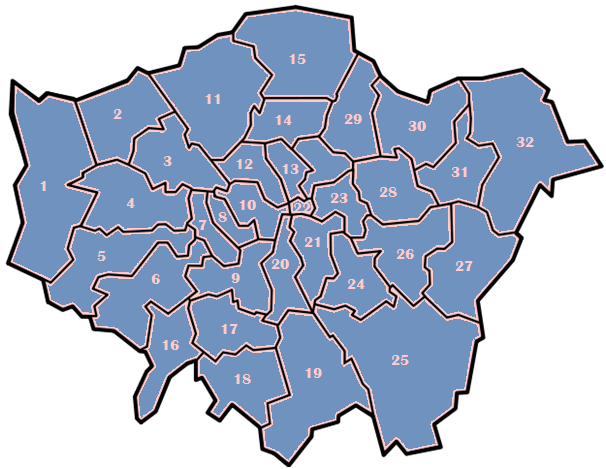 1. Hillingdon
2. Harrow
3. Brent
4. Ealing
5. Hounslow
6. Richmond
7. Hammersmith & Fulham
8. Kensington & Chelsea
9. Wandsworth
10. Westminister
11. Barnet

12. Camden
13. Islington
14. Haringey
15. Enfield
16. Kingston
17. Merton
18. Suton
19. Croydon
20. Lambeth
21. Southwark
22. City of London

23. Tower Hamlets
24. Lewisham
25. Bromley
26. Greenwich
27. Bexley
28. Newham
29. Waltham Forest
30. Redbridge
31. Barking & Dagenham
32. Havering

As a seasoned property management company, Crystal Housing Group has laid in strong, stable working relationships with the various local authorities that ensure our clients receive the very best possible advice and return in their investment. We have over 100 years combined experience working within property management that allows us to help guide you through the complex world of property investment to ensure you, our client, enjoy the most successful experience possible.
We ensure that whether this be your first time experience in property or you hold a large portfolio of various property types, our seasoned veterans in property management will be able to work with you through any questions or issues you may have. Our specially assembled workforce allows us to specifically cater to your needs and requirements, having on hand experience from accounting, financial advisors, surveyors and external property lawyers mean we are best placed to handle any issue you may have and going above and beyond the call of duty for our clientele.
Although we primarily cover all of London as well as outer London Boroughs, please still do not hesitate to get in touch with us as we have working relationships with various local authorities and housing associations in home counties such Berkshire, Buckinghamshire, Kent, Hampshire and outside home counties such as Shropshire and Leicestershire.
Call us today on 0208 560 6613 to discuss letting your property on our guaranteed rent scheme.